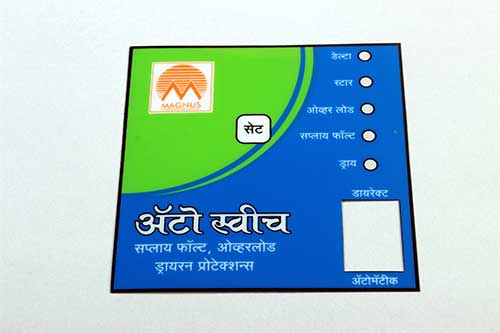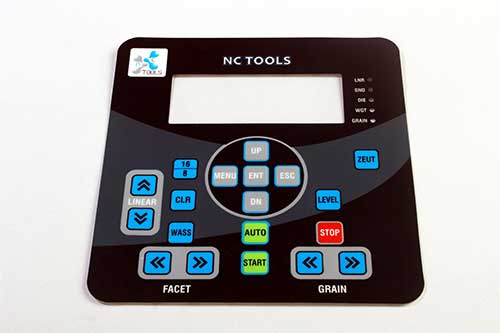 A Graphic Overlay makes a powerful impression of your company's product. It is an interface that connects the user to the machine or device. We, Rangvishwa manufacture customize Graphic overlays using an advanced process of screen printing & digital printing. As a leader in mfg, of overlay Rangvishwa offers the product in a wide range of substrates like Coated Polyester & PC films & back adhesive like 3M, Nitto etc.
Printing is done on the backside, protecting the graphic from scratching and wearout, which makes these overlay great for keypads, remote controls, electronic devices, control panels, instrument face plates . Various features can be incorporated like embossing, selective area textures, infinite shapes & sizes with different back adhesive options.
Advantages of Graphic Overlay :
• Durable and long-lasting as most graphics are screen printed.
• The colours can be matched to colour specifications.
• The product finishing can be selected from a variety of different textures including environment suitability or exposed application.
• Manufacture hard-wear coatings, transparency or gloss finishes to suit your product needs and offer product design suggestion throughout the design process
• Easily incorporate your corporate identity or brand.
• Offer the durable and long-lasting product at an affordable cost.
• High-Quality Print including the quality control process
• Adaptable approach and short lead times
We, Rangvishwa, offers our customers a number of design options for Graphic overlay which includes :
• Customized : The customer have freedom to choose substrate, back adhesive, color combination, embossing options, filters for LED display etch to make overlay for product.
• Substrate : Coated polyester films, PC films, PC sheets, Glass, Acrylic, PVC film etc.
• Finishing : Various kind of finishing available for overlay like matt, glossy, antiglare or selective area textured etc.
• Back adhesive options : As per need of product [indoor or outdoor] Rangvishwa suggest customers for back adhesive option like 3M, Nitto, Avery Deninson etc.
• Embossing : Pillow or RIM embossing option available for buttons, logos & LED area on Graphic overlay.
• Color Shades : Customer have choose color scheme as per PANONE or RAL shade card. Color matching option also available at Rangvishwa. We have matched exact color as per sampler provided by customer.
• Specific shapes makes possible by using advanced laser cutting technology or making laser cutting tool to meet accuracy of drawing.
• ROHS Compliant raw material.
INDUSTRIES - WHERE TO USE :
• Medical Devices
• Defense / Military
• Consumer & Household appliances.
• Gaming Controllers
• Industrial Automation
• Access Control Systems.
• Measuring Equipment
• Energy & Digital Meters
• UPS Inverters & Stabilizors
• CNC Machinery Control Panels