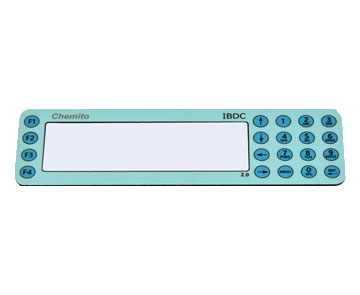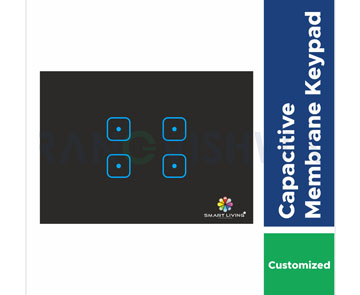 A Capacitive Membrane Touch Switch is type of switch, which operates only when the user makes contact with the object. The Capacitive membrane switch uses sensing technology to operate the functions of switch when touched.
Capacitance switches use the humans body's capacitance to identify touch and open/close the circuit. It requires only one electrode to operate, which is found behind a panel made of non-conductive material like glass, plastic or acrylic.
Advantages of Capacitive Touch Membrane Switch :
Sleek Appearance.
Robustness and Durability.
Ease of Maintenance.
Flexibility in Customization.
Light Touch Activation.
Scroll and Slider Designs options available.
Multi Touch Capability.
Backlighting Options
We, Rangviswa, offer our customers a number of design options for Capacitive Touch Membrane Switch which includes :
• Customized front overlay material like Coated polyester films, PC films, PC sheets, Glass, Acrylic etc.
• Various kind of finishing available for overlay like matt, glossy, antiglare or selective area textured.
• Backlit option available.
• ROHS Compliant.
Layers of Capacitive Touch Membrane Switch Consist of :
Graphic Overlay
Graphic adhesive.
Light guided panel
1.6 mm PCB
Rear Adhesive.
INDUSTRIES - WHERE TO USE :
Medical Devices
Consumer & Household appliances.
Elevator Controllers
Electrical Appliances
Industrial Automation