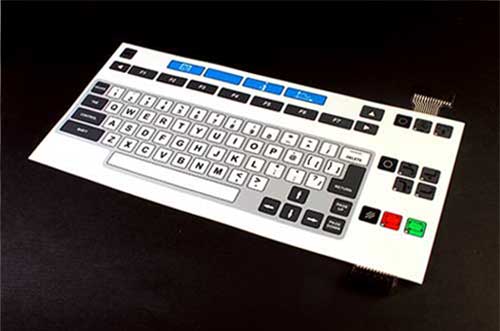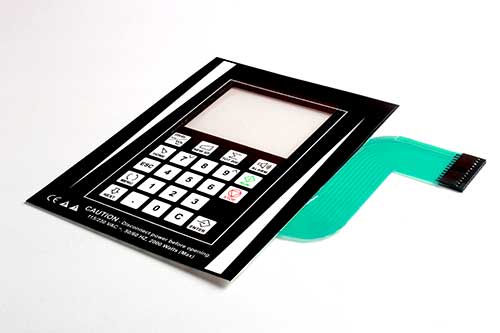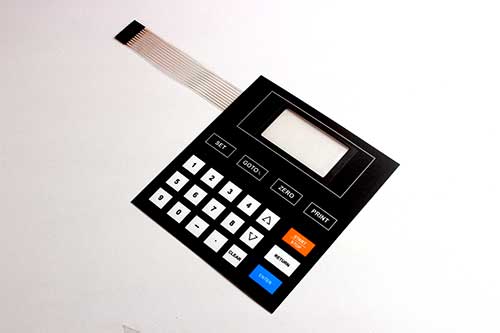 A flexible membrane switch consists of printed graphic overlay made from coated polyester film or polycarbonate film underneath layers of circuitry film. The circuit is printed on specially made polyester film for flexible circuitry printed by silver conductive ink by using a screen printing method. They function with electrical contact between the keypad surface and underneath circuits when the symbols on the overlay are pressed. The basic principle of functionality is that the contact behind the tactile key or non-tactile key closes an open loop of the circuit which terminates on the flexible tail. LEDs & resistors are can be incorporated easily in this type of membrane switch. These membrane switches are are used in domestic and industrial applications on a wide variety.
Few Advantages of Flexible - PFC based Membrane Switch Keypad :
Extremely thin construction [maximum 0.8 to 1 mm thickness] saves precious design space.
Improved tactile feedback by using gold platted dome switch.
Less contact bounce
Reliable in costing compare with other membrane switch options.
Longer switch life and greater reliability.
Sealed construction for dust, solvent and chemical resistance.
Additional protection against oxidation.
Low-profile surface can be easily cleaned.
We, Rangviswa, offer our customers a number of design options for of Flexible - PFC based Membrane Switch Keypad which includes :
Customized front overlay.
Various kinds of finishes available for overlay like matt / glossy/textured/fine or selective area textured.
Pillow or RIM embossing option available for buttons, logos & LED area on Graphic overlay.
Gold plated domes - for excellent conductivity.
Connector options available with pitch size 2.54 or 1.00 mm.
Available in Tactile or Non tactile based types.
Backlit option available.
Rigid backers such as aluminum, acrylic and FR4.
EMI / ESD shielding optional.
ROHS Compliant material.
Construction of Flexible Membrane Switch [Layers] -
Graphic Overlay
Graphic Adhesive
Top Circuit
Spacer Adhesive
Metal Domes
Bottom Circuit
Back Adhesive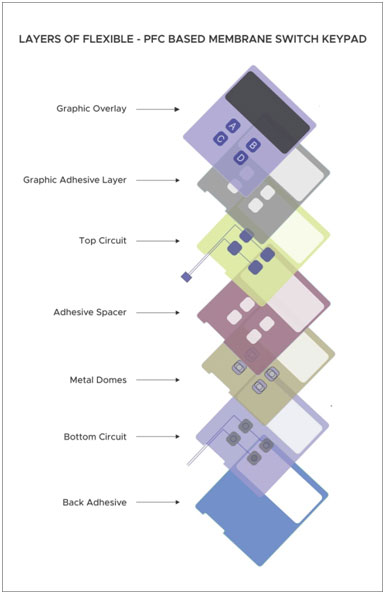 INDUSTRIES - WHERE TO USE :
Medical Devices
Defense / Military
Consumer & Household appliances.
Gaming Controllers
Industrial Automation
Access Control Systems.
Measuring Equipment
Energy & Digital Meters
UPS Inverters & Stabilizors
CNC Machinery Control Panels